Read how computer teacher Deborah Grmela uses Teach Your Monster to Read in her classroom in Texas, USA.
I teach computer skills to all the Prekindergarten, Kindergarten, and First Grade classes in my school district. This amounts to 500+ students each year. I also only teach these students one day a week for 45 minutes.
As with most schools one of our school district's goals this year is to improve the reading scores on the standardised tests our students take each year. As I use to be a classroom teacher (Kindergarten and First Grade) I knew that I might be able to help the classroom teachers out if I could figure out a way to incorporate phonics into my computer technology curriculum.
I began researching on the Internet for free (this is an important factor) web based phonics programs. That is how I stumbled upon the Teach Your Monster to Read website. The website was very eye catching and when I tried the website out myself I thought "The kids are going to love this!"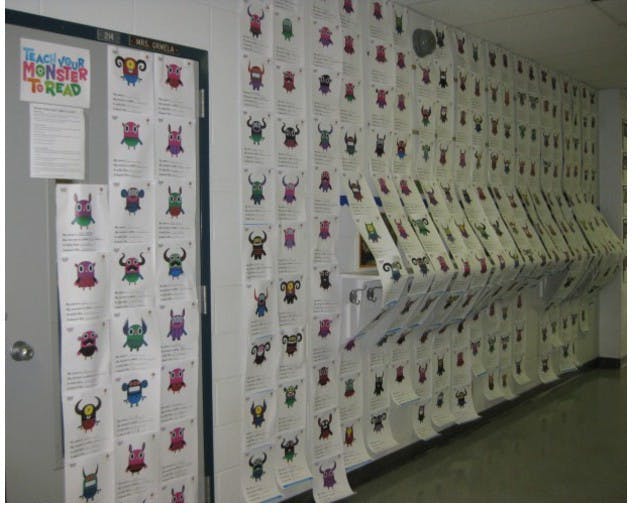 This past Fall, when the new school term began, after reviewing basic computer skills with my First Graders I began letting them use Teach Your Monster to Read. Granted I took the time to introduce the program to the students and got them excited about creating their monster the next week and asked them to think about how they wanted their monster to look. I also told the students that I wanted them to come up with a creative name for their monster.
What fun we all had reading and looking at each other's creation after I posted them in the hallway for everyone to see. The student's monsters were still hanging in the hallway when Open House was held. The students were very excited to show their families their monsters. I even had some parents asking me how their child could "do this" at home.
The Teach Your Monster to Read website is very intuitive and engaging and once the student is on the program I rarely "hear" from them. In fact, the students get so involved in the program that they do not want to stop and I have been asked by several of them if they can do this at home. One of my student's mothers happens to be a Third Grade teacher. When this student began working on Teach Your Monster to Read at home she saw that the program would be a great review for her students and asked the Elementary School Computer Teacher to try to incorporate the TYMtR program in her lab for those students who need extra "reading" help.
When I introduced Teach Your Monster to Read to my First Grade students I hoped that it would be a program that: 1) Reviewed the alphabet letters and sounds that the students were taught in Kindergarten and: 2) Was a springboard in helping students blend those letters and sounds together to begin reading. I believe the program has done that.
I am now using the Teach Your Monster to Read program with my Kindergarten students. At this time of the school year I believe that the Kindergarten students are going through Game 1: First Steps much quicker than their First Grade comrades. After each class time is over I hear students making remarks such as, "I'm on Island #", "My monster got a reward", "I am on Island 8 – what happens when I finish?", and "I'm in Crystal Village!" I think it is great that they think they are playing a game and do not realize they are learning. I get this impression because with excitement they exclaim "I'm on the next level!"
When the students move from Game 1: First Steps to Game 2: Fun With Words, I like to bring them over to my desk where I have the teacher portion of Teach Your Monster to Read pulled up and I show them how they did on their letters and sounds. Some of the classroom teachers have used the results from the teacher portion of Teach Your Monster to Read as documentation of skills mastered.
I personally believe that Teach Your Monster to Read is a program that fits all different types of learning styles as it seems to me that all of my students are learning – from my students labeled "Special Education" to my students who are considered "Gifted".
Thank you The Usborne Foundation for bringing such a wonderful learning tool to our young learners – for free!
Article by Deborah Grmela, Computer Teacher, Gatesville Primary School, Texas.