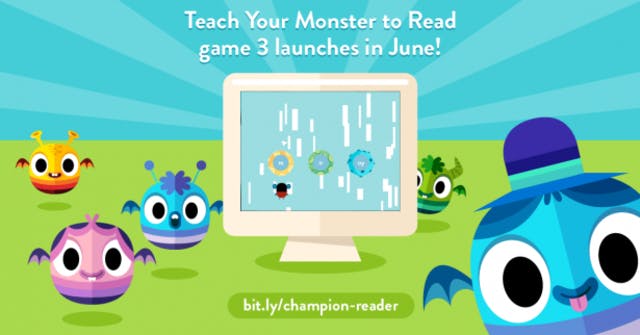 The monster is on its quest to find the Goblin Prince and is exploring the new planets.
It comes across a yellow trampoline. Of course the monster cannot resist having a jump around, but on its first jump, it shoots off into another dimension.
The monster now finds itself flying through the sky in a meteor shower. Watch out!
The monster must now find the right letter sounds on the meteors to make the word and get to the next part of the game.
It's not as easy as it sounds. Good luck monsters!
This game helps rehearse segmenting using a target grapheme.
Teach Your Monster to Read 3 launches on 4th June 2015.
Log in or sign up here to play the first two games in the series, Teach Your Monster to Read: First Steps or Teach Your Monster to Read: Fun With Words: http:/www.teachyourmonstertoread.com