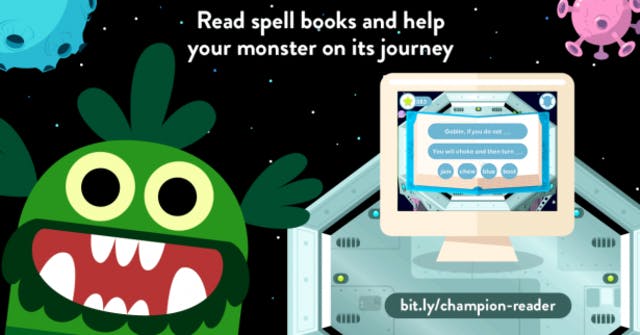 In Teach Your Monster to Read 3: Champion Reader, the monster's mission is to a cast magical spell to banish the Goblin Prince and rescue Jessica's friends from the blocks of ice they're trapped in.
The monster must find the Goblin Prince then creep past his lair and grab the spell book from under his nose. Tiptoe, tiptoe… snatch!
Once the monster has the spell book, its mission is to complete the sentences within the book and read them out loud. This will send the Goblin Prince away from the planet and out into the universe once more.
This spell book mini-game engages the children in purposeful, fun reading and they are getting practice in reading sentences.
Teach Your Monster to Read 3 launches on 4th June 2015.
Log in or sign up here to play the first two games in the series, Teach Your Monster to Read: First Steps or Teach Your Monster to Read: Fun With Words: www.teachyourmonstertoread.com