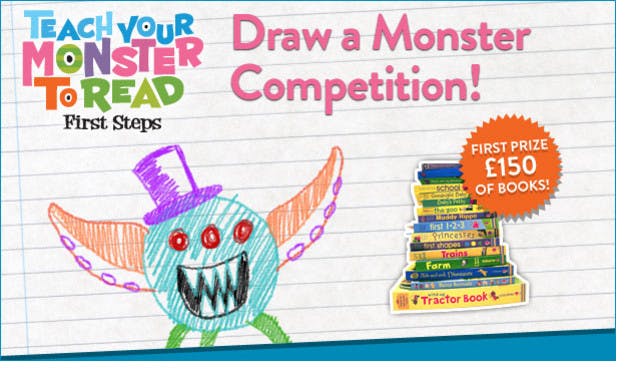 It's Halloween, it's half term, so what could be better than a monster drawing competition?
We really love monsters here at Teach Your Monster to Read and we'd love to see your little monsters' monster designs.
We're giving away £200 of Usborne books to the monsters our judges would most like to have as a pet.
For a chance to win, we're asking children to draw (or paint or build) a monster and send a photograph of the finished work to go in our online gallery.
The monster can be one from the Teach Your Monster to Read game or from your imagination – it can be friendly, spooky, scary or silly!
Our judges will be Cathy James from www.nurturestore.co.uk plus her two daughters – they will have the hard task of choosing the winning pet monsters.
Good luck!
Prizes:
1st prize: £150 worth of Usborne books of your choice*
2nd and 3rd prizes: £25 worth of Usborne books of your choice*
* Subject to availability, of course!
How to enter
Send a photograph of your monster's monster drawing to [email protected]
Deadline is 5pm on Friday 9th November 2012.
The winners will be announced on Friday 16th November 2012
If you'd like to send your child's first name and their age along with the entry, we'll add it to the gallery alongside their picture, but please only do this if you're willing for us to show these in the gallery.
Need some inspiration? Here's a few monsters I have found! (yes I enjoyed doing this) http://pinterest.com/danniestar/monsters/
The competition is open to entries from the UK only. For the Terms and Conditions of the competition go to http://teachmonster.herokuapp.com/legals